Tuesday, April 22nd, 2014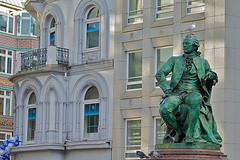 On 28 November, the B2B finds North exhibition in Hamburg-Schnelsen instead of Hamburg, 12 November 2013 – LetMeShip will attend fair as an exhibitor of the B2B North on November 28 in Hamburg-Schnelsen. The B2B North is the largest regional economic trade fair in Germany and was already over 200 exhibitors and 3000 visitors at its kick-off event in April 2013. The B2B North exhibition promises a business dialogue for business leaders, entrepreneurs and decision makers from the Hamburg metropolitan region". Also LetMeShip, price comparison, and delivery platform for express shipments by business customers, contributes to this dialogue. LetMeShip will participate not only as an exhibitor at the fair, but quickly, easily and affordably send also a presentation on the topic of packages -"contribute. LetMeShip allows business customers a simple, fast and cheap shipping via the online platform there is bundled a variety of express and parcel services, customers can price and services compare easily, fast bookings in Order and archive shipments and invoices on a single platform.
The concept is: more than 10,000 business customers registered on the platform. Although we operate Germany wide, a large part of our client base is located in the Hamburg metropolitan region. So it not only interesting is at the Northern trade fair B2B to make new contacts, but to use the day to invite our existing customers from the region"says Mr Christian Stangenberg, head of sales at LetMeShip. Win 2 tickets for the musical Rocky"in Hamburg visiting the LetMeShip to make especially tempting stand, there will be a raffle. Attract visitors to the booth can 2 tickets for the musical Rocky"in Hamburg.
The joining of the B2B North fair is free of charge. You can here download your ticket by LetMeShip: cms/file we are pleased about your visit. When: Thursday 28.11.2013 09:00 18:00 where: upper level, booth No. 5 MesseHalle Schnelsen fashion ring 1a 22457 Hamburg Hamburg via LetMeShip LetMeShip (www.letmeship.de) is a price comparison and shipping platform express and parcel services for business customers. Price bundling, save costs, all bookings run to a customer number and an invoice. Thereby, each customer is supervised by a personal advisor. LetMeShip cooperates with service providers such as DHL, UPS, TNT, GO! and DerKurier. Over 10,000 companies already take advantage of LetMeShip. The platform based in Hamburg was founded in the year 2000.